The Samsung Galaxy Tab S9 is a versatile and powerful tablet that offers a wide range of features to enhance your digital experience. While it's designed to work seamlessly, there may be times when you encounter software issues or need to perform advanced tasks like flashing custom firmware. This is where the recovery mode comes into play.
Recovery mode is a hidden but vital feature on your Samsung Galaxy Tab S9 that provides you with the tools to troubleshoot and resolve various software-related problems.
In this article, we'll guide you through a step-by-step process on how to enter and exit recovery mode on your Samsung Galaxy Tab S9. Before you start, ensure that your Galaxy Tab S9 is connected to a computer via a data cable.
Also Read: How To Factory Reset Samsung Galaxy Tablet S9
How To Enter & Exit Recovery Mode On Samsung Galaxy Tab S9
Entering Recovery Mode:
The first step is to power off your Samsung Galaxy Tab S9. Make sure your device is completely turned off before proceeding to the next step. Simultaneously press and hold both the power button and the volume button on your Galaxy Tab S9.
As you continue holding the power and volume buttons, your device will start to boot into recovery mode. Be patient during this process; it may take a few seconds. You will see the Android logo and a message indicating that your device is loading the recovery menu.
Once you are in recovery mode, you can navigate through the options using the volume buttons. To move up and down the menu, use the volume buttons to scroll through the available options.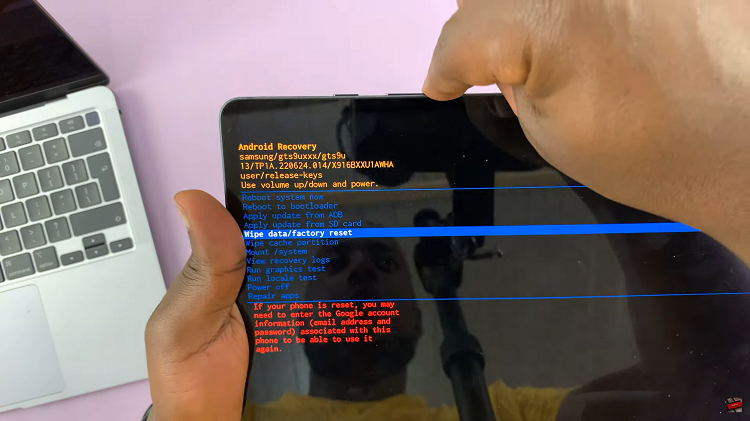 To select an option or perform a specific action in recovery mode, use the power button. Press the power button to confirm your choice. Be cautious when selecting options, as some actions can erase data or perform system updates.
Exiting Recovery Mode:
To exit recovery mode and return your Galaxy Tab S9 to normal operation, look for the "Reboot System Now" option in the recovery menu. Use the volume buttons to navigate to this option. Once "Reboot System Now" is highlighted, press the power button to select it. Your device will initiate the reboot process.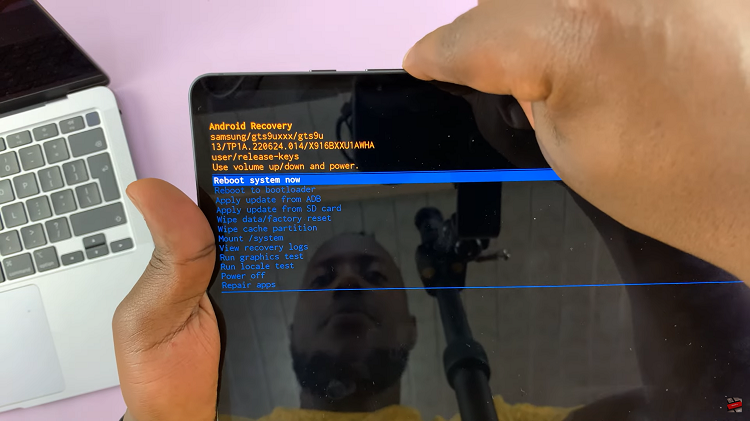 Upon selecting "Reboot System Now," your Samsung Galaxy Tab S9 will automatically restart. You will see the Samsung logo as the device boots up, indicating that you have successfully exited recovery mode.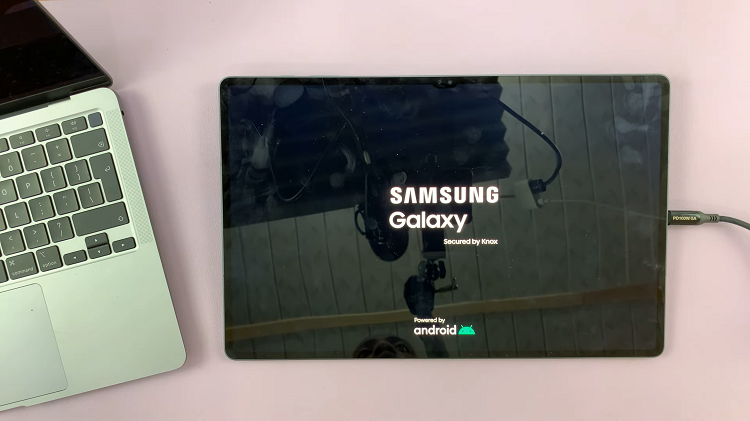 By following these simple steps, you can confidently navigate the recovery menu and return your device to normal operation when needed. Remember to use recovery mode responsibly and only perform actions that you are familiar with to avoid any unintended consequences.
Watch: How To Enable / Disable Screen Auto Rotate On Samsung Galaxy Tab S9 S9+ S9 Ultra