The Samsung Galaxy S23 is a feature-packed smartphone that offers a range of customization options to. Among its many capabilities, one particularly useful feature is the ability to integrate Spotify music directly into the keyboard.
This feature enables you to easily share your favorite songs, playlists, or podcasts while typing messages or emails, making it a convenient addition for music enthusiasts and communication enthusiasts alike.
In this article, we'll guide you through a step-by-step process on how to enable and disable Spotify Music on keyboard of your Samsung Galaxy S23.
Also Read: How To Change Time Zone Of Roaming Clock On Samsung Galaxy S23
How To Enable & Disable Spotify Music On Keyboard Of Samsung Galaxy S23
Begin by opening the "Settings" app. Within the Settings app, scroll down and select "General Management." Under General Management, you will find the "Samsung Keyboard Settings" option. Tap on it to access the keyboard settings. Within the Samsung Keyboard Settings, scroll down until you see the option labeled "Select third-party content to use." This is where you can customize the keyboard's integration with external apps.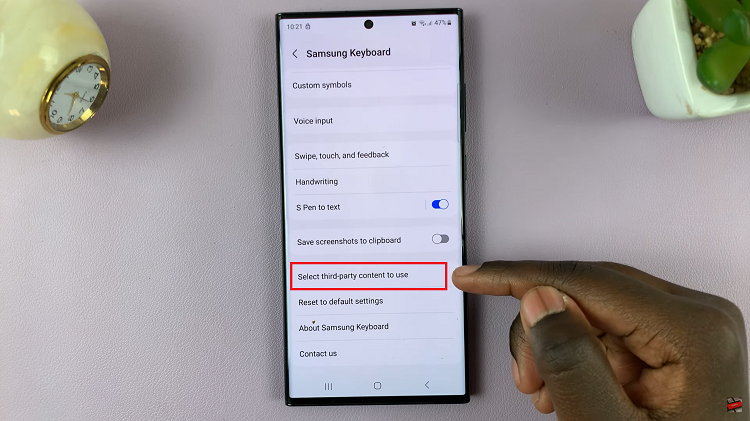 In the list of available third-party content, locate "Spotify." To enable Spotify on your keyboard, simply tap the toggle switch next to it. This action adds Spotify as an option when using the keyboard.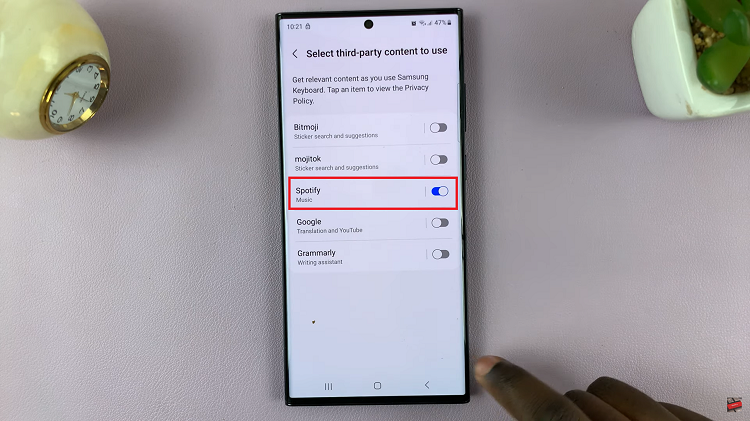 Now that Spotify is enabled, open a document, email, or any app where you can input text. Tap on the three dots on your keyboard to open a menu of apps. You should see Spotify listed among the options. Select Spotify, and you can easily share music or podcasts directly from the keyboard.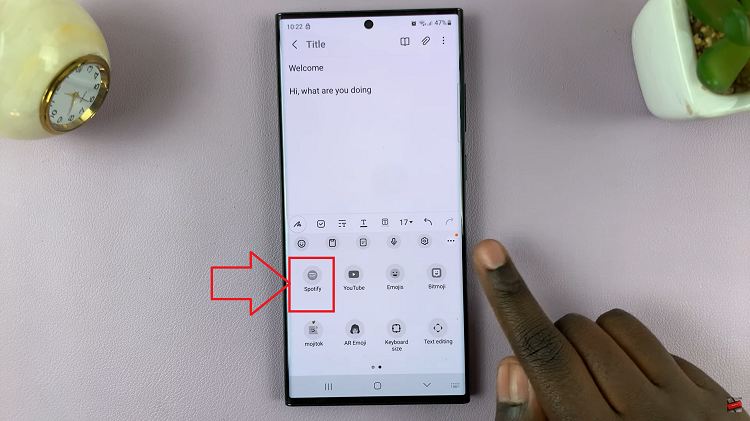 To disable Spotify Music simply go back to the Settings app, Tap on General Management, scroll down until you see the option labeled "Select third-party content to use." Then next to Spotify, toggle the switch off to disable it.
Watch: How To Enable / Disable Grammarly On Keyboard Of Samsung Galaxy S23, S23+ and S23 Ultra