In this article, we'll guide you through the simple steps to enable/disable the lock home screen layout feature on your Samsung Galaxy A14 and A14 5G.
The Samsung Galaxy A14 offers a host of customization options to make your smartphone experience truly personal. One of the features that users find particularly useful is the ability to lock or unlock the home screen layout.
This allows you to keep your apps and widgets exactly where you want them, preventing accidental rearrangements.
Watch: How To Add Music To Samsung Galaxy Watch 6/6 Classic From Phone
Enable Lock Home Screen Layout On Samsung Galaxy A14
To enable the lock screen home layout on your Samsung Galaxy A14, go to the app drawer and select the settings app to open it. Next, scroll down and tap on the Home Screen option.
Once you're in the Home Screen Settings menu, scroll down until you find the Lock Home Screen Layout option. Toggle the switch to the right to enable it. This action will ensure that your current layout of apps and widgets is locked in place.
It will not be possible to change the location of apps or widgets. you will also not be able to move or uninstall any apps or widgets from the home screen.
Disable Lock Home Screen Layout On Samsung Galaxy A14
If you ever want to rearrange your home screen again, follow the same steps to access the Home Screen Settings. Locate the Lock Home Screen Layout option and toggle the switch to the left to disable it.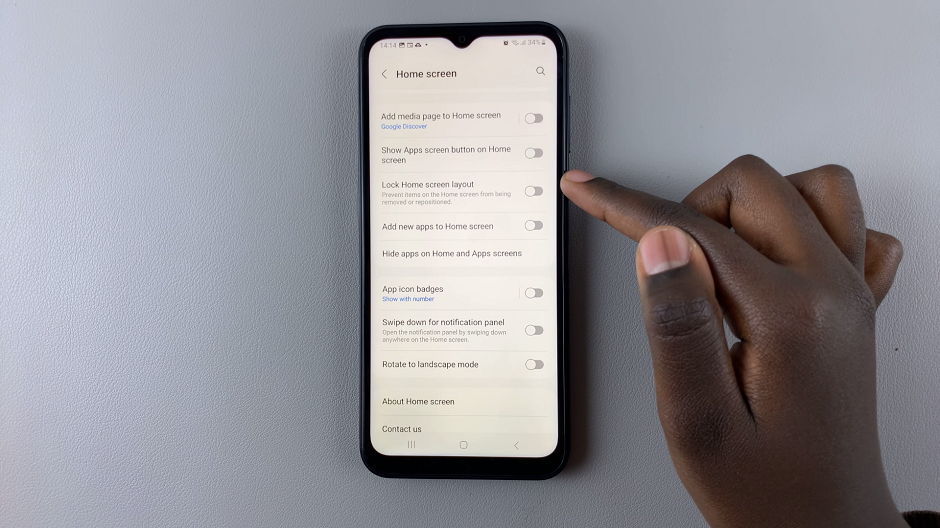 This will allow you to freely move and reposition your apps and widgets.
Benefits of Locking Your Home Screen Layout
Prevents Accidental Changes: By enabling the Lock Home Screen Layout feature, you can avoid unintentional rearrangements of your apps and widgets, providing a more stable and consistent user experience.
Maintains Organization: If you've carefully organized your apps and widgets to suit your preferences, locking the layout ensures that it stays exactly as you want it, even if you accidentally touch the screen.
Ideal for Kids or Shared Devices: If you share your device with others, especially young children, locking the home screen layout can help maintain a consistent interface, reducing confusion and frustration.
Saves Time and Effort: Once you've set up your ideal home screen layout, there's no need to constantly readjust it. This feature streamlines your user experience, saving you time and effort.
Customizing your Samsung Galaxy A14 to suit your needs is an essential aspect of maximizing your smartphone experience. Enabling or disabling the Lock Home Screen Layout feature gives you greater control over how your apps and widgets are arranged, enhancing usability and reducing unnecessary frustrations.
By following the simple steps outlined in this guide, you can effortlessly manage your home screen layout with confidence. Take advantage of this feature and enjoy a tailored smartphone experience that reflects your unique style and preferences.
Read: How To Add Music To Samsung Galaxy Watch 6/6 Classic From Phone