In our fast-paced, always-connected world, finding moments of peace and tranquility can be a challenge. This is where the Do Not Disturb mode on your Google Pixel 8 or 8 Pro comes to the rescue.
This feature allows you to take control of your notifications and calls, ensuring that your device respects your personal boundaries and allows you to focus, relax, or simply enjoy a moment of silence without interruptions.
In this guide, we'll walk you through the comprehensive step-by-step process on how to enable and disable Do Not Disturb on your Google Pixel 8.
Also Read: How To Add Date & Timestamps To Photos On Google Pixel 8
How To Enable & Disable Do Not Disturb On Google Pixel 8
Method 1: Using the Settings App
Begin by navigating to the "Settings" app. Inside the Settings app, scroll down the list of options until you find "Notifications." Tap on this option to proceed. Within the Notifications settings, select an option labeled "Do Not Disturb." Tap on a blue button labeled "Turn On Now."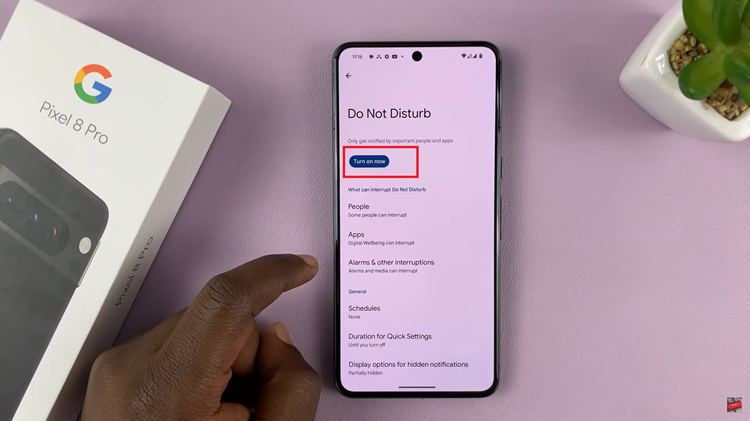 To tailor Do Not Disturb mode to your preferences, you can further customize it. This includes choosing whose calls can bypass Do Not Disturb, selecting which apps can send notifications, and deciding if alarms should still function. You can also set a schedule for when Do Not Disturb mode automatically turns on and off.
To disable Do No Disturb, tap on the button labelled "Turn Off Now." The feature will turn off automatically.
Method 2: Using Quick Settings
To use Quick Settings, slide down from the top of your Google Pixel's screen. This action will reveal a set of quick-access buttons.
Among the quick settings buttons, look for the one labeled "Do Not Disturb." Tap on it, and Do Not Disturb mode will be turned on. The button should change color, indicating that it is now enabled.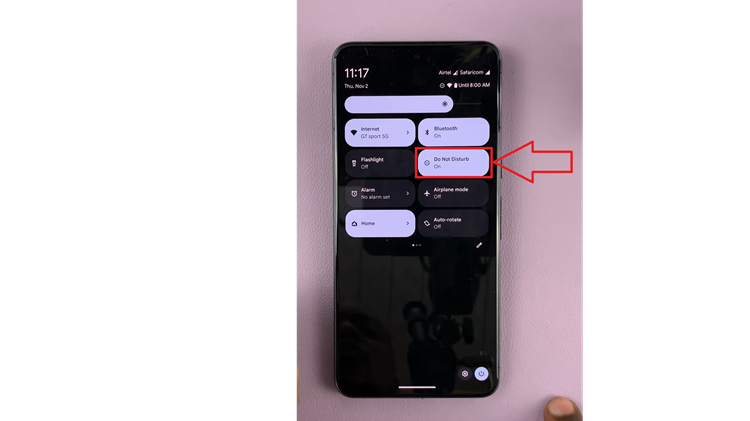 To turn off Do Not Disturb from Quick Settings, locate the "Do Not Disturb" button. To disable it, tap on the button. It loses color to show that it is off.