The only reason you should be downloading a YouTube video to your iPhone is for anything but commercial reasons or to distribute it.
To entertain or educate yourself is acceptable. Having said that, let us look at a couple of methods you can use to download videos from YouTube.
How To Download YouTube Videos To An iPhone
You can do this is a couple of ways.
By Recording Your Screen
The iOS 11 and newer versions have this feature where you can record your iPhone screen.
This means that as a YouTube video is playing, you can record it free of charge.
To do this, open your YouTube app and play your video of choice. Ensure that you play it in the landscape orientation.
Next, open the Control center by swiping up and tap the Record button. Record the video while it is playing until the end.
Once done, this video will get saved and stored in your Camera roll.
Using A Third Party App On A Computer
There are apps that are available for this purpose. Once the video of your choice is downloaded onto the third party app, you can then transfer it to your iPhone.
For example, let us look at how to do this using the app called ClipGrab. Once downloaded and launched, use the Search tab to find the video you want to save.
Click on the video and then convert it to the MPEG4 format so that you can view it on your iPhone.
After this, select it and click on the Grab this clip option. The video will now be displayed on your desktop and you can go ahead and transfer it to your phone.
Subscribing To YouTube Premium
With this subscription service, you can download videos to your iPhone at $16 per month.
Although the videos will not be of the most high quality, at least they will be saved to your phone and you do not have to keep losing track of them.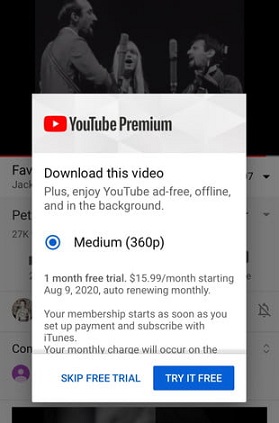 Thankfully, there is a one month free trial so you can first test YouTube premium and see if it works for you or not.