For WhatsApp users, you might know that the application backs up your data. This is quite useful since it stores all your messages and media in the cloud service. You can restore the messages whenever you decide to reinstall WhatsApp. Some users might want to stop the WhatsApp backup for whatever reason they might have.
Luckily, you can disable the WhatsApp backup at any given time. Normally, you can decide to choose the timeframe in which the backup will happen. By default, WhatsApp usually backup your data on a daily basis. You can change these settings at any given moment. Below are the steps to disable WhatsApp backup on your Android device.
Watch: How To Translate Texts On Instagram Stories
How To Disable WhatsApp Backup
If you have some sensitive information on your WhatsApp chats, you can stop WhatsApp from backing up that information to your Google Drive.
Firstly, make sure you have WhatsApp installed on your Android device. If not, head to the respective application store on Android and iOS to download the latest Facebook version. Once installed, set up the application. You can skip this step if you have WhatsApp on your phone.
Next, tap on the three dots at the upper right corner of the screen then tap on 'Settings' from the menu that appears. At this point, you'll see all the WhatsApp settings. Tap on 'Chats' then scroll down and tap on 'Chat Backup'.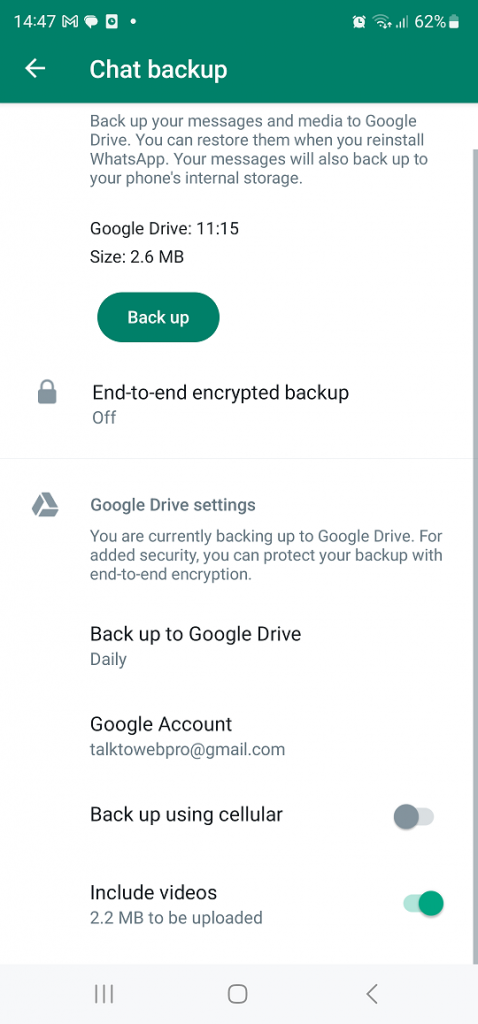 Next, tap on 'Back up to Google Drive'. To disable backup, select 'Never' from the pop-up menu that appears. The application will no longer back up any data until you manually do so.
That's how to disable WhatsApp backup on Android devices. Let us know in the comment section if you have any questions or suggestions. If you found the article helpful, consider sharing it with your friends.