Facebook is a social networking site where you can share your thoughts and express your feelings. You might have made countless posts, some might be embarrassing and you'd like to delete them from your account. Normally, you can delete individual posts but if you have many posts, it might be tiresome. Fortunately, Facebook allows you to delete all posts at once.
Deleting the posts in bulk is an easier process which is very effective if you have lots of Facebook posts. To improve the experience of finding and deleting Facebook posts, the company has finally added the functionality in the "Activity Log" to filter and bulk delete or archive any of the posts you've made. The guide below shows the steps needed to delete all your Facebook posts.
Watch: How To Insert SIM Card And SD Card On Samsung Galaxy A14
How To Delete All Facebook Posts
Deleting your Facebook posts is quite a fast and simple process. The steps illustrated below applies to both the Android and iOS platform.
Firstly, make sure you have the Facebook app installed on your device. If not, head to the respective application store on Android and iOS to download the latest Facebook version. Once installed, sign into your Facebook account.
Next, tap on your profile icon at the upper right of the screen. At this point, you'll be able to see shortcuts that are available on the Facebook Menu. Tap on your Facebook Name to access your Facebook profile page, then tap on the three dots next to the 'Add to Story' button.
Next, tap on 'Activity Log' from the profile settings page on your device. At this time, you'll see all your activities on your Facebook account. These include your posts, activities that you're tagged in, your interactions, and much more.
Tap on 'Manage Your Posts' under Your Posts subheading. You'll be able to see all the posts made on your Facebook timeline. Tap the checkbox next to 'All' to highlight all the Facebook posts. Once all posts have been selected, tap on 'Recycle bin'. From the menu that appears, tap on 'Move to Trash' to confirm the changes.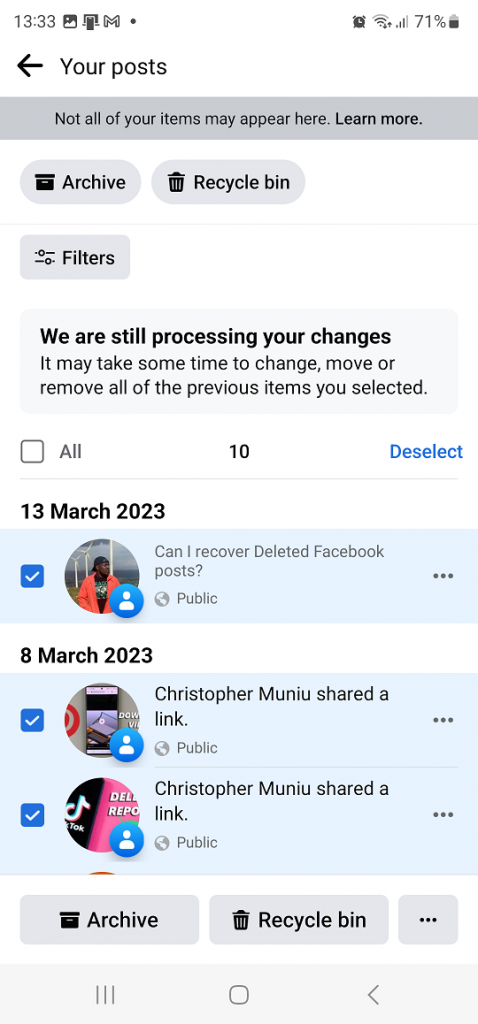 All the posts will be deleted and moved into the recycle bin. Keep in mind that these posts will remain in the recycle bin for a 30-day grace period after which they'll be permanently deleted. If you'd like to restore them, do so within the 30-day period.
And that's how to go about it. Let us know in the comment section if you have any questions or suggestions. If you found the article helpful, consider sharing it with your friends.