Do you know what PDF stands for? Well, if not, PDF stands for Portable Document Format. PDFs help the user to capture all the aspects of the original document and the user can also easily view the document, navigate through the document, get a print out and also one can share the document with a friend.
The main reason why PDF format is so popular is because they help preserve the original graphic appearance and structure especially when shared and viewed on different platforms. 
The only thing PDFs can't do well, is being used in presentations. So when you need to use the contents of a PDF document in a presentation,  you might be required to convert that PDF to PowerPoint.
How To Convert PDF To PowerPoint
There are two main ways you can use to convert a PDF to PowerPoint. The first and easiest method is using Adobe acrobat. But if you don't feel like using paying for Adobe Acrobat, there are plenty of third party tools on the internet you can use.  They include smallpdf, SimplyPDF and many more.
Convert PDF To PowerPoint Using Adobe Acrobat
Assuming you already have the software installed on your computer, open the file you wish to convert in Adobe acrobat. Once you find it, click on the Export PDF tool which you will find on the right pane. While you are there, choose Ms PowerPoint to be your desired export format.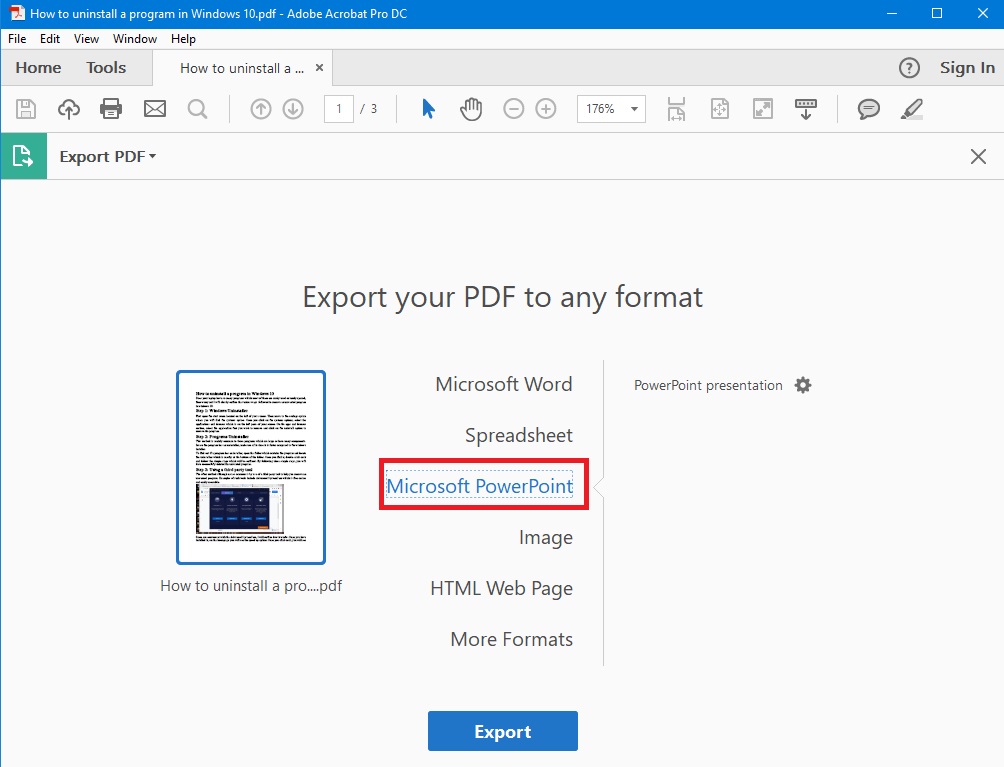 Once the text or images have been scanned, you will be notified to click export to finalize the conversion process. Once the exporting is done, you can now name and save your PowerPoint document in your desired location. It's literally that easy. 
Convert PDF To PowerPoint Using Third Party Tools
The internet is filled with third party tools and applications that can make this process possible,  especially when you want to do it for free. Online PDF to PowerPoint converters are probably the easiest way to go about this. The beauty of online tools is that you on't have to install anything to get them to work.
Smallpdf is a very nifty PDF handling tool that can get the job done for you.  All you need to do is upload the PDF document and it will begin the conversion process automatically. Then you can download your PPT file when it's done.

There are other online tools like iLovePDF and simplyPDF that can get the job done for free. Software applications can also be used especially when you don't think you'll have internet connection when converting. Here is a list of tools you can use to convert PDF to PPT.
Also Read:  How To Translate PDF Documents