In this guide, we'll walk you through the steps to seamlessly connect your Samsung Galaxy Watch 6 or 6 Classic with a Bluetooth speaker. Connecting is the same as pairing your device to another.
The Samsung Galaxy Watch 6 and 6 Classic are exceptional pieces of wearable technology, offering a plethora of features for fitness enthusiasts and tech aficionados alike.
One of the lesser-known capabilities of these smartwatches is their ability to connect to Bluetooth speakers, allowing you to enjoy your favorite music and podcasts without the need for a separate device.
Read: How To Set Google Assistant On Home Button Of Samsung Galaxy Watch 6/6 Classic
Before we dive into the pairing process, ensure that you have the following:
A Compatible Bluetooth Speaker: Make sure you have a Bluetooth speaker that is compatible with your Samsung Galaxy Watch 6 or 6 Classic.
Charged Devices: Ensure both your Galaxy Watch and Bluetooth speaker have sufficient battery charge to complete the pairing process without interruptions.
Proximity: Keep the Bluetooth speaker within a reasonable distance from your watch (usually within 10 meters) to establish a stable connection.
Connect Bluetooth Speaker To Samsung Galaxy Watch 6/6 Classic
Enable Bluetooth on Your Galaxy Watch
On the watch face, swipe up on the screen to access the app menu. Locate and tap on the gear icon. This will take you to the Settings menu. Select Connections.
Bluetooth should be on, so tap on Bluetooth, then the toggle icon to enable it. Your watch will start scanning for available devices.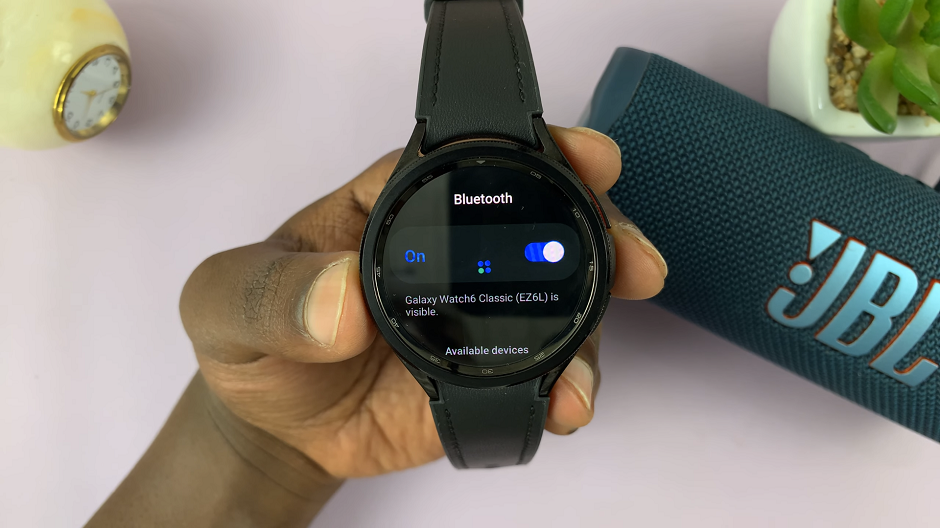 Put Your Bluetooth Speaker in Pairing Mode
Refer to your Bluetooth speaker's user manual to put it in pairing mode. This process usually involves holding down a specific button or combination of buttons. For my JBL Flip 6, I simply need to press the Bluetooth button to enter into pairing mode.
Pairing Your Devices
On your Galaxy Watch, you should see the name of your Bluetooth speaker appear in the list of available devices. If not, tap on Scan once again to scan for nearby devices.
Next, tap on the name of your Bluetooth speaker to initiate the pairing process.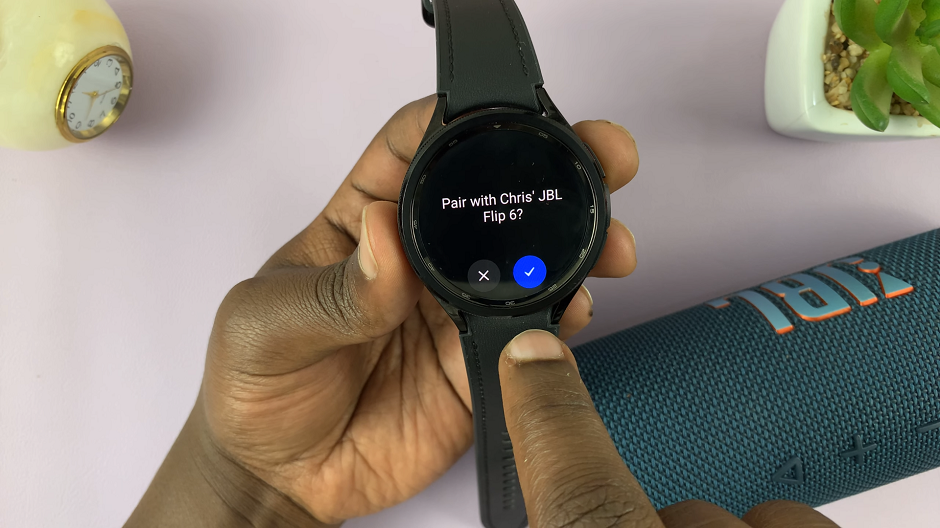 Confirm the Connection
Once the devices are paired, your Galaxy Watch will display a confirmation message. Your Bluetooth speaker may also emit a sound or light indicating a successful connection.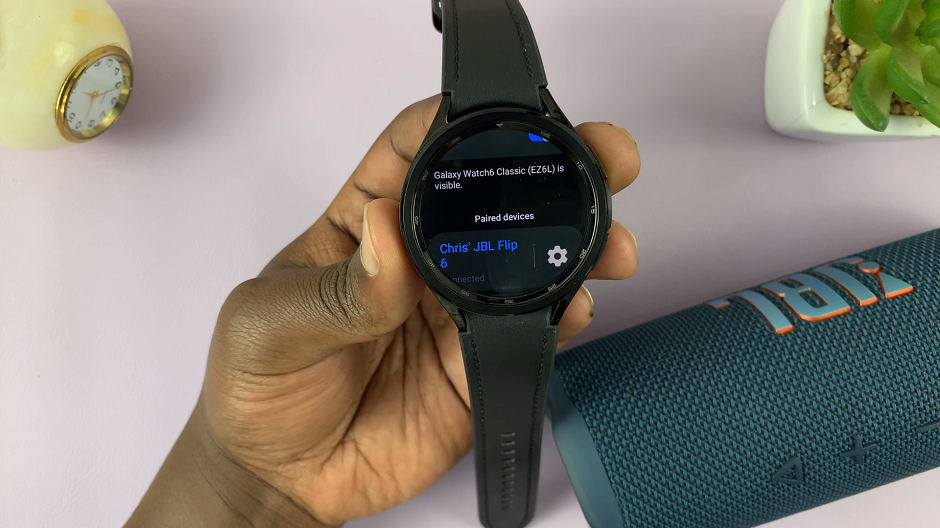 If needed, you can select your connected Bluetooth speaker as the preferred audio output device. Navigate to Settings –> Connections –> Bluetooth –> Paired devices and select your speaker.
You can now use your Bluetooth speaker to play content from your Samsung Galaxy Watch 6/6 Classic.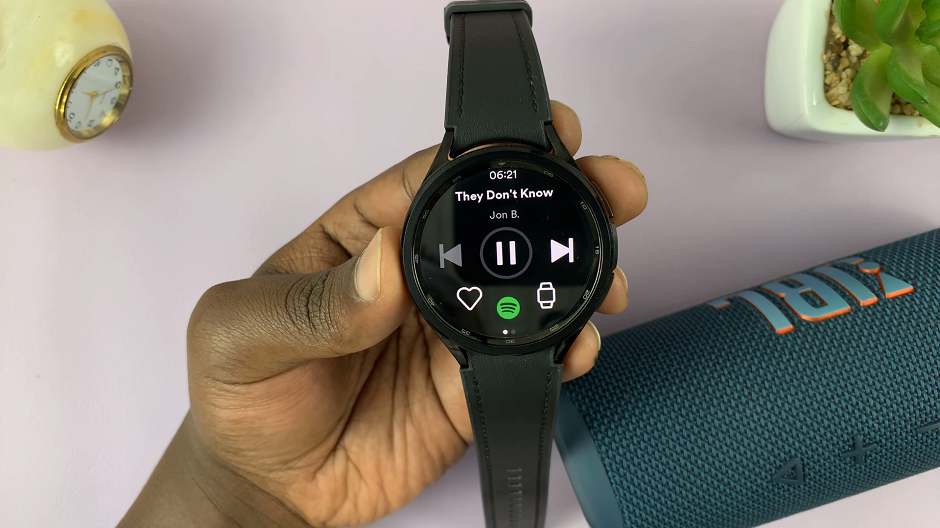 Troubleshooting Tips
If you encounter any issues during the pairing process, consider the following troubleshooting steps:
Check Bluetooth Compatibility: Ensure that both your Galaxy Watch and Bluetooth speaker support Bluetooth connectivity.
Restart Devices: Power off and on both your watch and Bluetooth speaker, then attempt the pairing process again.
Clear Paired Devices: If you've previously connected your watch to other devices, go to Bluetooth settings and remove any unnecessary pairings.
By following these simple steps, you can enhance your audio experience with the Samsung Galaxy Watch 6 or 6 Classic. Whether you're on a morning jog, hitting the gym, or simply relaxing at home, this connection allows you to enjoy your favorite music or podcasts effortlessly.
Watch: How To Use Photo as Watch Face On Samsung Galaxy Watch 6 / 6 Classic