With the release of the iPhone 15 series, Apple introduced several groundbreaking features and design changes. One notable change is the shift from the familiar Lightning port to a USB-C port for charging and connectivity.
This shift has left many iPhone users wondering how they can continue to use their beloved 3.5mm wired headphones with their new iPhone 15.
In this article, we'll give you a comprehensive step-by-step guide on how to connect 3.5mm wired headphones to your iPhone 15.
Also Read: How To Turn Off or Restart iPhone 15 & iPhone 15 Pro
How To Connect 3.5mm Wired Headphones iPhone 15 & iPhone 15 Pro
What You'll Need:
iPhone 15
3.5mm Wired Headphones
USB-C to 3.5mm Female Socket Dongle (Adapter)
As the iPhone 15 no longer includes a dedicated 3.5mm headphone jack, you'll need to purchase a USB-C to 3.5mm female socket dongle or adapter. Once you have the USB-C to 3.5mm female socket dongle in hand, insert the USB-C end into your iPhone 15's charging port. Ensure it's securely connected to avoid any connectivity issues.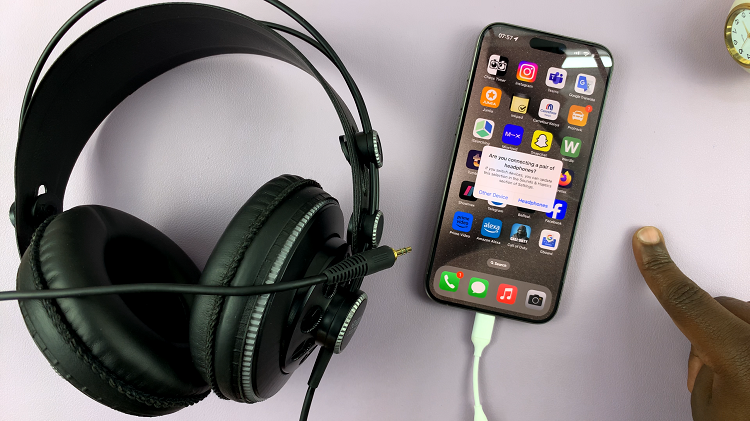 Now that the adapter is in place, simply plug your 3.5mm wired headphones into the female socket on the adapter. Sometimes, when you connect headphones to your iPhone 15 using the adapter for the first time, a pop-up notification may appear on your iPhone's screen. This notification is to confirm that you are connecting headphones. Confirm it to ensure the best audio experience.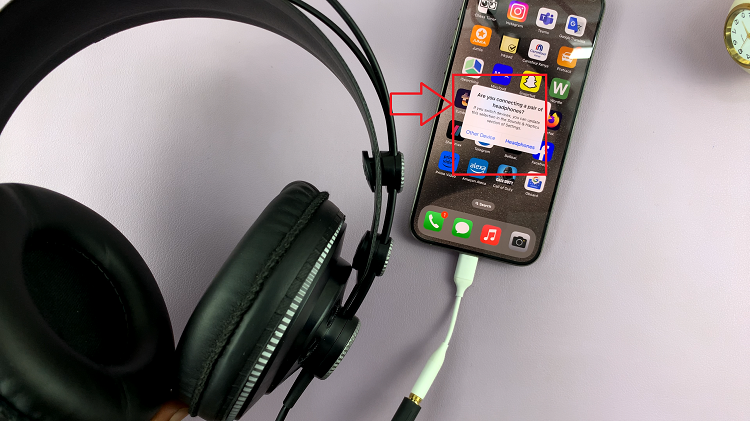 With your headphones successfully connected, you're all set to enjoy your music, podcasts, or make calls with your iPhone 15. The adapter ensures that your wired headphones work seamlessly with the USB-C port.
Watch: How To Set Up iPhone 15 By Transferring All Data From Older iPhone