Screen timeout refers to the period of inactivity after which your smartphone's display turns off to conserve battery and prevent unnecessary usage. Adjusting the screen timeout setting can have a direct impact on both battery life and user convenience.
By default, most smartphones come with a predefined screen timeout period, but it's often customizable to suit your preferences. The Samsung Galaxy Z Flip 5 allows you to easily adjust this setting according to your needs.
If you'd like to change the screen timeout period on your Samsung Galaxy Z Flip 5, follow the steps illustrated below.
Watch: How To Use Split Screen On Samsung Galaxy Z Flip 5
To Change Screen Timeout Period On Samsung Galaxy Z Flip 5
Firstly, access the settings on your device. To do so, swipe down from the top of the screen to reveal the notification panel, and then tap on the "Settings" gear icon located in the upper-right corner. Alternatively, you can access the "Settings" app from the app drawer.
Scroll down the Settings menu to find and tap on the "Display" option. At this point, find and tap on the "Screen timeout" option. From here, select the duration that best suits your preferences. Keep in mind that choosing a shorter duration will conserve more battery, but you'll need to unlock your phone more frequently.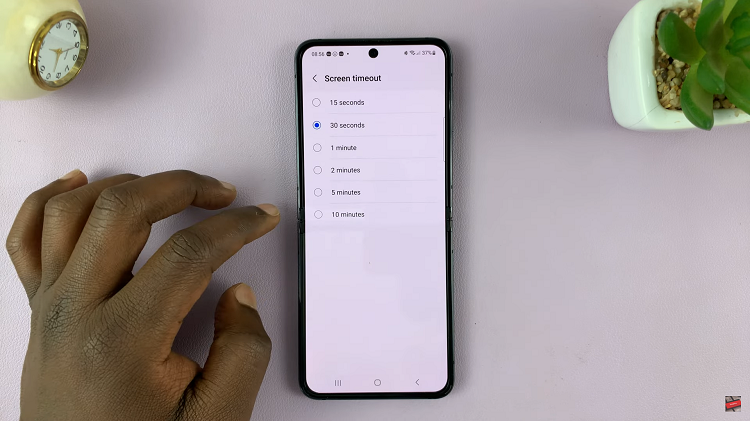 After selecting your desired screen timeout duration, the changes will be applied automatically. You can exit the settings once your preference is saved. Let us know in the comment section below if you have any questions or suggestions.
Read: How To Use Apps On Samsung Galaxy Z Flip 5 Cover Screen