The screen timeout feature on your Google Pixel 8 or Pixel 8 Pro is designed to help conserve battery life. When your phone's screen remains active for an extended period without any interaction, it can drain the battery faster.
However, there are situations where you might want the screen to stay on longer, such as when you're reading an article, following a recipe, or using your phone as a GPS device in the car. By adjusting the screen timeout period, you can strike a balance between battery life and user convenience.
In this article, you'll learn how to change the screen timeout period on the Google Pixel 8 and 8 Pro.
Watch: How To Enter Recovery Mode On Google Pixel 8
To Change Screen Timeout Period On Google Pixel 8
Firstly, locate and tap the "Settings" app, represented by a gear icon, typically found on your home screen. Now, scroll down the settings menu and look for the "Display" option. Tap on it to access these settings.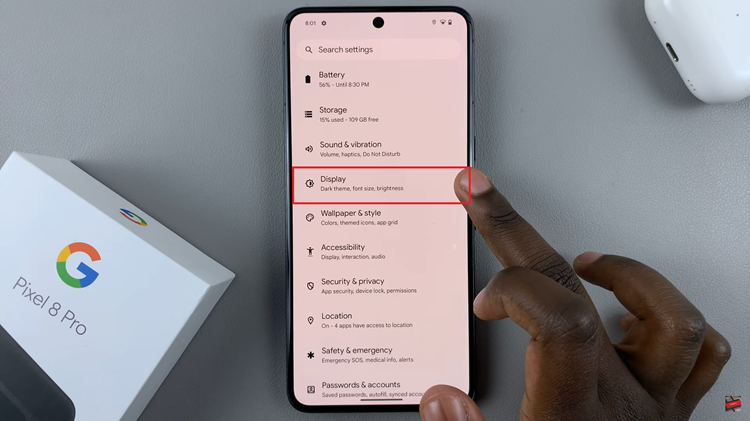 At this point, within the Display settings, select the "Screen Timeout" option. Now, you'll see a list of predefined timeout durations, which may include 15 seconds, 30 seconds, 1 minute, 2 minutes, 5 minutes, 10 minutes, and 30 minutes.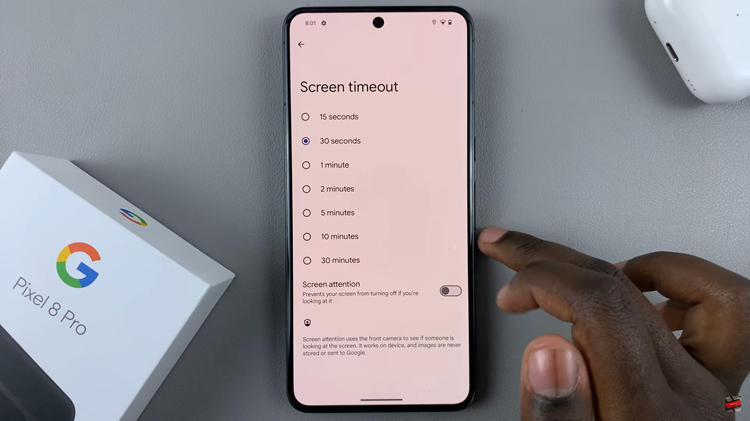 Choose the screen timeout duration that suits your needs. You can pick any of the available options, and your screen will automatically turn off after the specified period of inactivity. After selecting the desired screen timeout duration, you can exit the Settings.
That's it! You have successfully adjusted the screen timeout period on your Google Pixel 8 or Pixel 8 Pro. Your phone's display will now stay active for the selected duration before it goes to sleep when not in use. Let us know in the comment section below if you have any questions or suggestions.
Read: How To Add Fingerprint Unlock On Google Pixel 8 & Pixel 8 Pro