The Samsung Galaxy Tab S9 and S9 Ultra are powerful devices that provide an exceptional digital experience. With their stunning displays and feature-rich interface, these tablets are perfect for a wide range of tasks.
However, the ability to customize the user interface, such as changing the system font size, can significantly enhance the user experience.
In this guide, we'll walk you through the process of how to change the system font size on your Samsung Galaxy Tab S9 or S9 Ultra, whether you require larger text for improved readability or prefer a smaller font to fit more content on the screen.
Watch: How To Close Background Apps On Samsung Galaxy Tab S9
To Change Font Size On Samsung Galaxy Tab S9
First, unlock your tablet by entering your PIN, pattern, or password. Then, swipe down from the top of the screen to access the notification panel. Locate and tap on the "Settings" gear icon, usually found in the top right corner. Alternatively, you can access it from the app drawer or home screen.
In the settings menu, scroll down and select the "Display" option. This is where you can manage all things related to your tablet's display. At this point select the "Font Size & Style" option.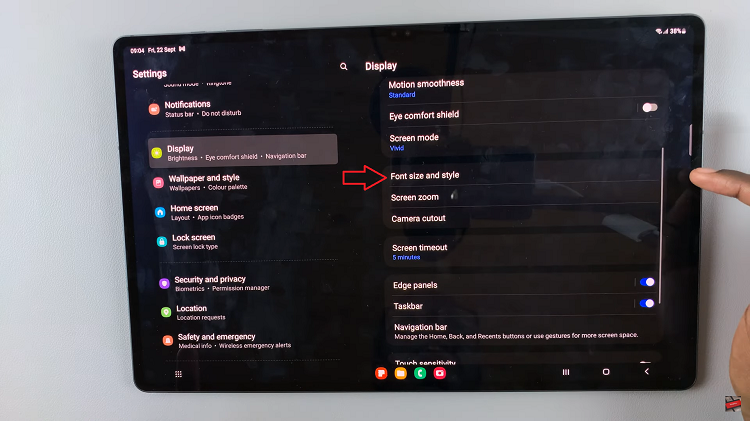 To adjust the text size, slide to the right or left on the Font Size slider. As you adjust the slider, a preview text will show the current font size.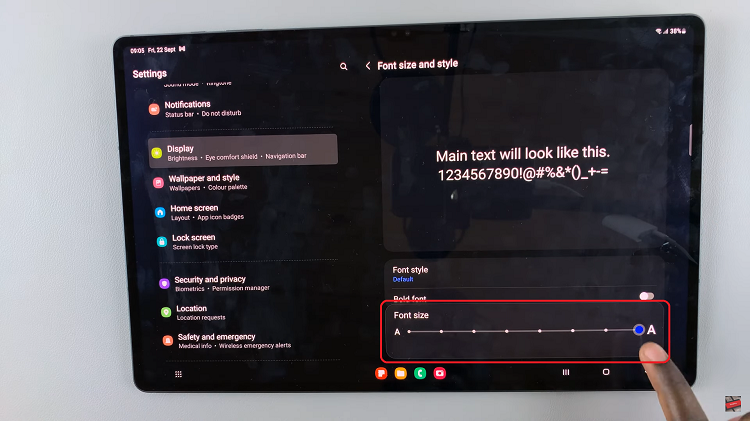 In conclusion, changing the system font size is a straightforward process on the Samsung Galaxy Tab S9 and S9 Ultra. By making these adjustments, you can tailor your tablet's interface to your preferences and enjoy a more comfortable and personalized user experience.
Read: How To Enable Fast Charging On Samsung Galaxy Tab S9 & S9 Ultra