Netflix has a 'one free month' trial period before you can pick your plan and start paying for your monthly subscriptions. But before you begin your trial period, you have to hook up your credit card or Paypal account to Netflix.
This is mainly to make sure the payment method is valid. When the free month is done, Netflix will automatically charge your payment method according to the plan you chose at sign up. The payment is for the next month. At this point some people like to cancel Netflix subscription.
When To Cancel Netflix Subscription:
If you were only interested in the free version of Netflix and you don't want to pay, make sure you cancel before you jump into the next month after you get validated. As soon as the next month starts and the payment is made to Netflix, cancelling will have no effect as your money will not be refunded.
It's in their terms of Service which I doubt you read. But you will still be able to watch Netflix for the rest of the month. So the best way to do it, is soon after your payment is validated and you have started the free trial.
If you've been paying for Netflix and you no longer want to, the same rules apply. Make sure you cancel before the month skips. If you plan for November to be your last month, the make sure you cancel your subscription during the month of November.
In fact you should cancel right after the payment for November has been made. You'll still be able to watch for the rest of November. If you forget to and you skip to December, the non-refundable payment will be made. You'll have no one to cry to. But you can buy some popcorn and watch Netflix for the rest of December.
How To cancel Netflix Subscription:
To cancel your Netflix subscription, you need to be logged in to your account. The process is simple regardless of which device you're using.
Web Browser: To cancel your Netflix subscription on a web browser, click on the downward arrow at the top right corner of the page, next to your profile name and select 'Account'. Under Membership and billing click the grey cancel membership box. Follow the on screen instruction to cancel your membership.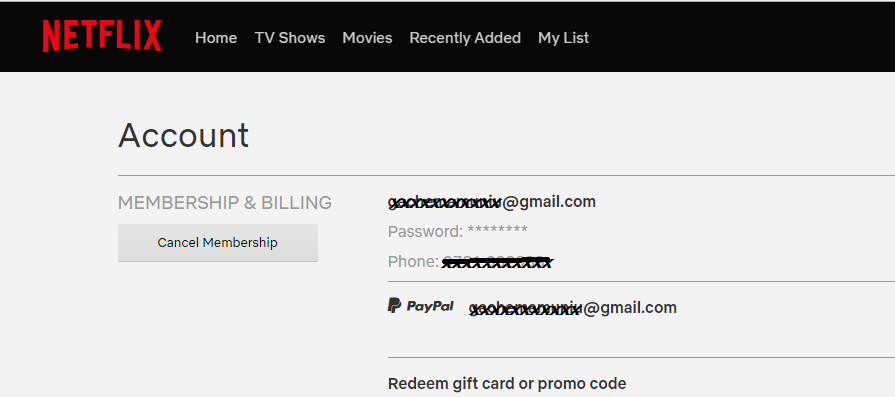 Mobile App: Whether your on android or iOS the Netflix app also allows you to cancel your subscription. Launch the app and tap on the menu, then select Account. This will redirect you to the mobile browser version of Netflix. There's a big grey 'CANCEL MEMBERSHIP' button. Tap on it to initiate the cancellation process and follow the on screen instructions to complete the process. The same process works for Android tablets and iPads.
Cancelling your Netflix subscription/ membership does not mean you have deleted your account. Your account will still be there in case you change your mind at a later date and want to pay.