If you're wondering how to add another fingerprint to your Samsung Galaxy S23 series phone, you're in the right place. In this guide, we'll walk you through the process step by step.
In the rapidly evolving landscape of smartphone technology, security and convenience are paramount. Samsung's Galaxy S23 series, comprising the S23, S23+, and S23 Ultra, offers an array of cutting-edge features to enhance the user experience. One such feature is fingerprint recognition, a biometric security measure that not only ensures the safety of your device but also provides quick and effortless access.
Adding multiple fingerprints to your device can be immensely beneficial. It allows you to grant access to trusted family members, friends, or colleagues without having to share your device's PIN or password. This feature is especially handy in situations where you need someone else to use your phone briefly, but you want to maintain a level of privacy and security.
Watch: How To Disable Casting On Google Pixel Tablet
Add Another Fingerprint On Galaxy S23, S23+ and S23 Ultra
To start, unlock your Samsung Galaxy S23 series device using your current fingerprint or PIN. Navigate to the Settings app. You can do this by swiping down from the top of the screen and tapping the gear-shaped icon or by locating the app in your app drawer.
Scroll down and select the Security and Privacy option. This is where you'll find all the security-related settings for your device.
Under the Security and Privacy menu, scroll down and find the Biometrics option. Tap on Biometrics.
Next, tap on Fingerprints. You'll be prompted to verify yourself using current a pattern or by entering your PIN.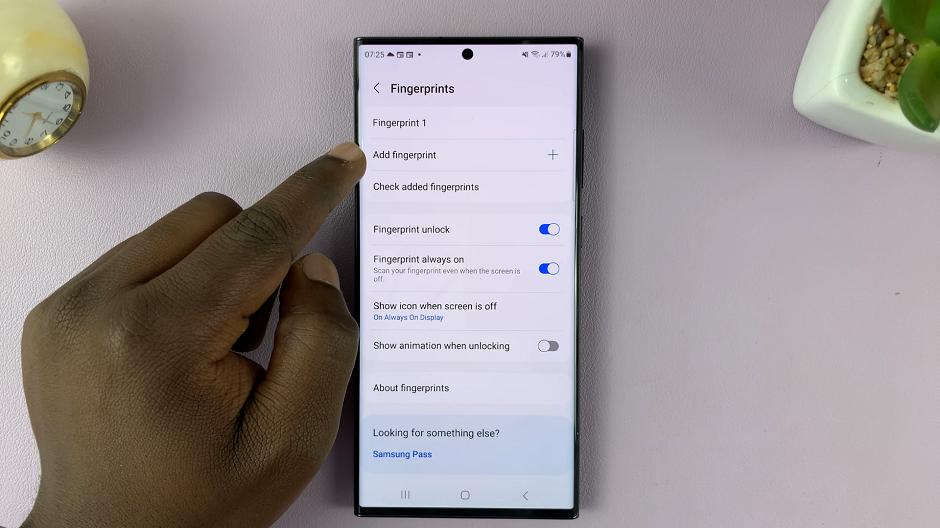 You'll now see the option to Add fingerprint. Tap on it to begin the fingerprint registration process.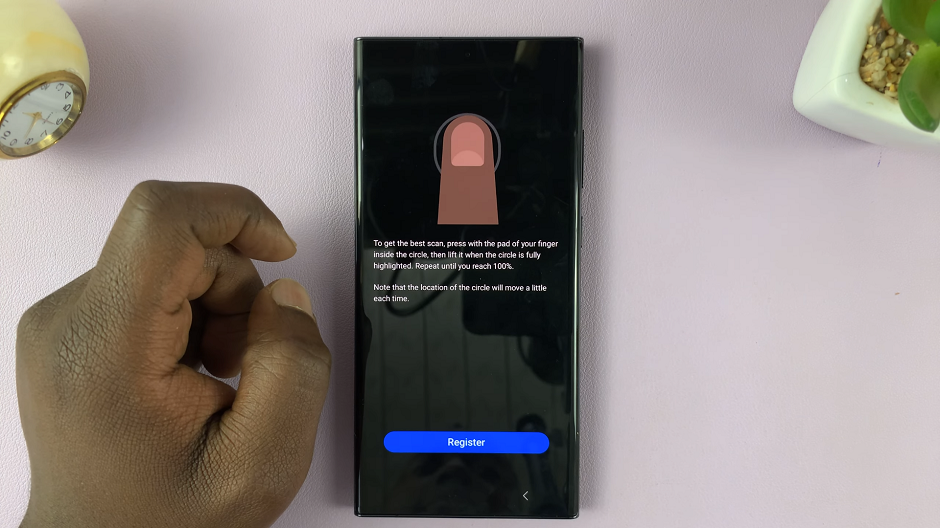 Follow the on-screen instructions. Place the finger you want to register onto the fingerprint scanner. Make sure to cover the entire area of your fingerprint.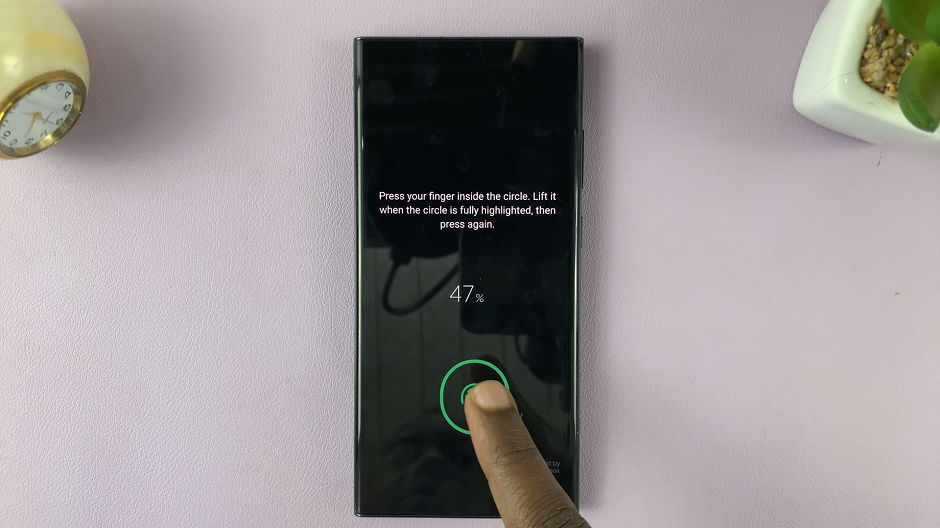 Lift and place your finger multiple times, adjusting its position slightly with each placement. This ensures that the scanner captures your fingerprint from various angles.
Once you've successfully registered your new fingerprint, you'll receive a confirmation message. Tap on Done to complete the process, or on Add to add yet another fingerprint.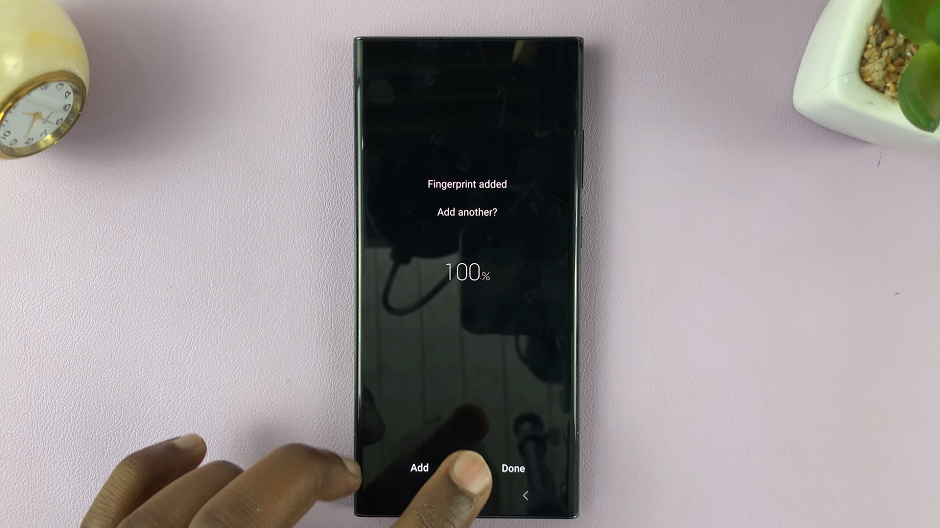 You can now give the fingerprint a unique name to distinguish it from your other fingerprints.
Test the newly added fingerprint to ensure that it works consistently and accurately. You can do this by locking your phone and using the registered fingerprint to unlock it.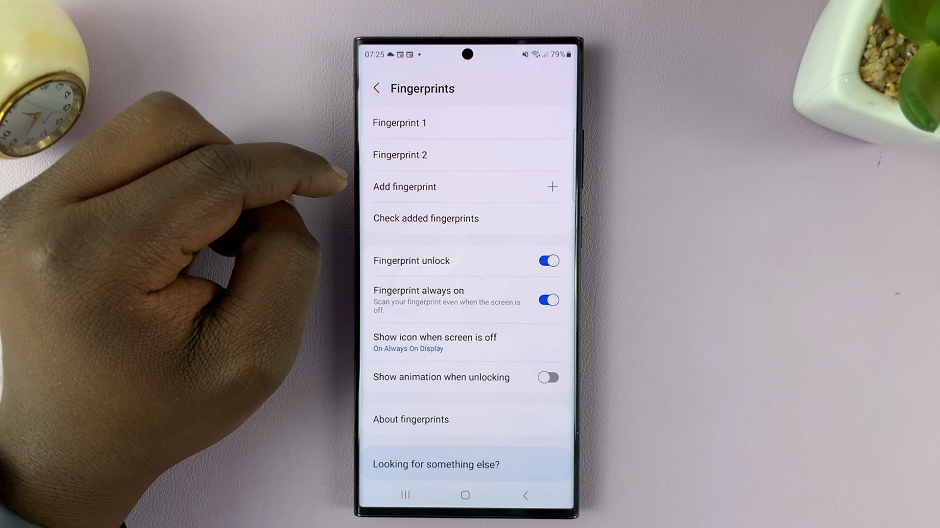 As we continue to rely on our smartphones for various aspects of our daily lives, security remains a top priority. The Galaxy S23 series' fingerprint recognition feature provides a convenient and secure way to access your device.
By following this step-by-step guide, you can effortlessly add another fingerprint to your Samsung Galaxy S23, S23+, or S23 Ultra, enabling you to share your device with confidence while maintaining your privacy.
Read On: How To Download Any Video On iPhone