If you're past your fifth birthday, you have lived through enough history and interesting times to create a timeline of your life.
The Atlantic is celebrating 160 years of publication and from all the archives if information in their custody, they have created a fun tool that uses your birthday to create a timeline of your life based on historic events and mile stones that have taken place throughout your life.
Depending on your age, you'll see 10-13 events with themes such as "before you were born" and "when you became a teenager." that spread through your life.  The Atlantic is getting most of the data from it's own archive of articles and information.
Go to the Life Timeline page and enter your birthday and start exploring. You will see a time line consisting of 10-13 major events, milestones or achievement.
At the end of the timeline,  there are Facebook and Twitter share button with an image that defines one of the important events in your timeline. Here's mine.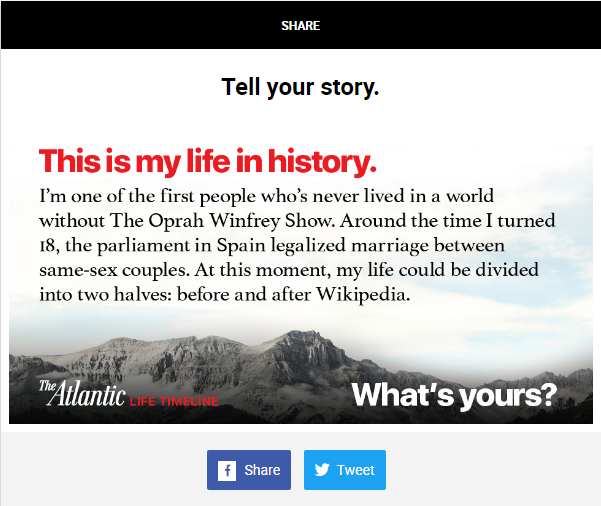 The Atlantic team that created this tool says they will improve it's scope to give users more mile stones and historic events that shape their timeline. As well as being a great tool to remind you of your history it gives a refreshing feeling to know what you have lived through in a summary.