The Whatsapp privacy settings are meant to protect the user from sharing information they would rather not share. e.g. profile photo, whatsapp status, last seen info e.t.c.
In this article,  I will show you how to access your Whatsapp privacy settings on your device and the web and how to use them.
Launch Whatsapp on your device.  Tap on the menu in the upper right side and select Settings.  On the settings page,  tap on Account then tap on Privacy.  This is the page that contains the privacy settings of your Whatsapp account.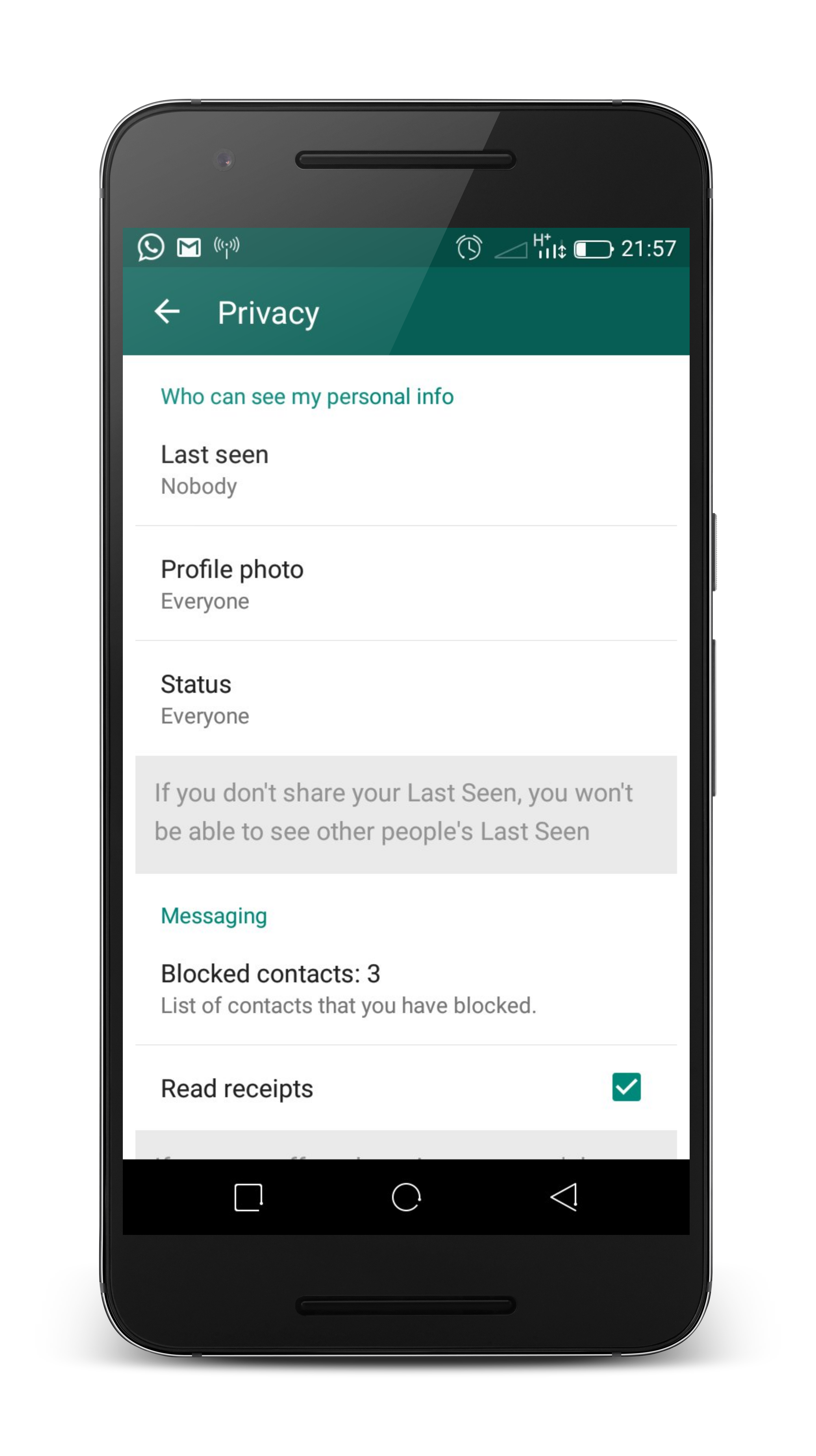 Last Seen:
This privacy option lets you choose whether people can see when you were last active on whatsapp. When public, anybody (except people you've blocked) with your phone number can see when you were last active.
You can set it to be only visible to people you have saved in your contacts list.  Or set it to 'Nobody'  if you don't want anyone to see when you were last active on Whatsapp.
When online,  people will be able to see that you are actively using Whatsapp no matter what you set it to.  When you block people from seeing your last seen status,  you will also not be able to see their last seen status unless they are currently online.
Profile Photo: 
You can make your Whatsapp profile photo visible to the group of people you choose.  When public,  anyone with your phone number can see your profile photo.  You can choose to only show it to people in your contact list or make it completely private by selecting 'Nobody'.
You'll still be able to see other people's profile pictures even when you make yours private (Nobody).
Status:
Your Whatsapp status is 'Public'  by default.  Anybody with your number can read it.  You can make it visible to people i your contact list or to Nobody.  Making your whatsapp status private will prevent you from seeing other people's whatsapp status.
Blocked Contacts:
On this page you will also find a list of the people you have blocked on Whatsapp.  Tap on it to see the list.  You can unblock anyone from here.
Read Receipts:
These are the blue ticks that indicate a message you sent has been viewed by the recipient.  When you send a message via whatsapp,  a single tick indicates the message has successfully been sent.  Two ticks indicate that the message has arrived in the recipients phone/device.  Blue ticks (read receipts) indicate that the recipient has opened the message.
You can turn off read receipts on your device so that people who send you messages don't know if and when you opened the message.  The will see the two ticks, but will not see them turn blue whether you read the message or nah. When you make read receipts private,  you will also not get read receipts for messages you send.
Also Read:  End To End Encryption on Whatsapp.  What does it mean?