The S Pen isn't just for drawing and note-taking; it's a multi-functional tool that lets you compose text messages with unparalleled accuracy. Its capabilities extend far beyond the standard touchscreen keyboard, giving you the freedom to write, draw, annotate, and express yourself in ways that traditional typing can't match.
Whether you want to send handwritten messages, add a personal touch with doodles and sketches, or simply enjoy a more tactile and precise typing experience, the S Pen has you covered.
In this article, you'll learn how to type messages with the S Pen on your Samsung Galaxy Tab S9 or S9 Ultra.
Watch: How To Use Dual WhatsApp On Samsung Galaxy Tab S9
To Type Messages With S Pen On Samsung Galaxy Tab S9
To begin, locate the Messages app on your Galaxy Tab S9 or S9 Ultra. You can either find it on the home screen, in the app drawer or use the search function. Tap to open the app.
Once inside the Messages app, select the recipient or start a new message by tapping the "New Message" option. A blank message field will appear, ready for your input. At this point, write your message within the text field and add emojis and other annotations.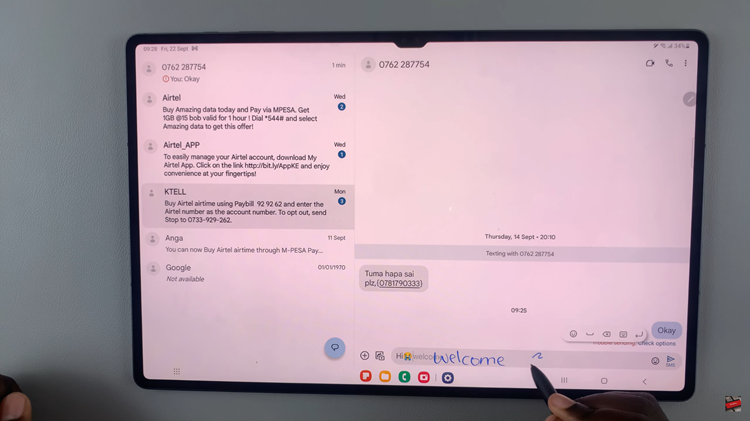 Afterward, ensure you proofread and edit it if necessary. Use the S Pen's precision to select and edit specific parts of your text. Once you're satisfied with your composed text, tap the send button (usually a paper plane icon) to deliver your message to the recipient.
By following the steps above, you can utilize the S Pen and make it easier for you to compose messages on your Galaxy Tab S9. Let us know in the comment section below if you have any questions or suggestions.
Read: How To Turn OFF 'Hey Google' In Google Assistant On Google Pixel 8 & Pixel 8 Pro