VoiceOver is a powerful accessibility feature built into Apple's iOS devices, including the iPhone 15 and iPhone 15 Pro. This feature is designed to assist users with visual impairments by providing spoken feedback for on-screen elements and gestures.
While VoiceOver is incredibly helpful for those who rely on it, it can sometimes be accidentally enabled or may not be needed for all users.
In this article, we will walk you through the steps to turn off VoiceOver mode on your iPhone 15 or iPhone 15 Pro.
Watch: How To Add Dual Clock Widget To iPhone 15
To Turn OFF VoiceOver Mode On iPhone 15
First, begin by unlocking your iPhone and going to the home screen. Then, tap on the "Settings" app, represented by a gear icon. Thereafter, scroll down and tap on "Accessibility."
At this point, within the Accessibility menu, you'll find various accessibility features. Now, tap on "VoiceOver" to access the VoiceOver settings. On the VoiceOver screen, you'll see a toggle switch at the top. Finally, to turn off VoiceOver, simply slide the switch to the left.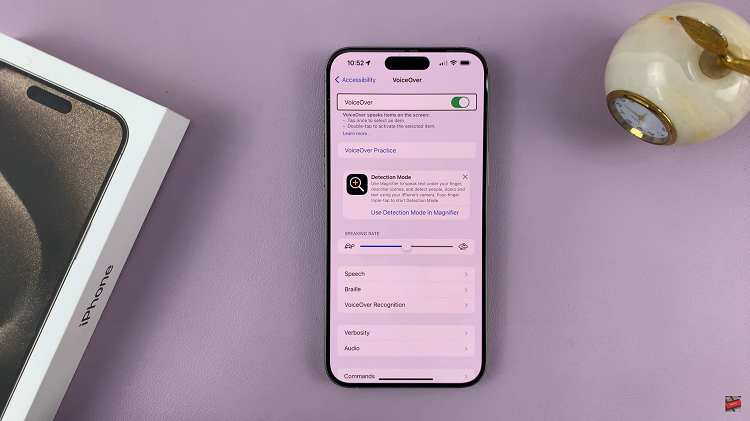 By following the steps above, you can easily disable this feature on your iPhone 15. Let us know in the comment section below if you have any questions or suggestions. Feel free to share this information with someone who needs it.
Read: How To Check Battery Health On iPhone 15 & iPhone 15 Pro