If you've bought a new iPhone but haven't started using it because you're holding on to the data mine on the Android device you are currently using,  you have come to the right place. Move To iOS.
Move To iOS is an Android app in the Google play store that makes that switch from Android to iOS much easier.  Created by Apple,  the app is free for download on the Google Play store for anyone running Android version 4.0 upwards.
This App will help you transfer your important data from your Android device to your new iPhone.
How Does Move To iOS Work?
The first thing you need to do is find the Move to iOS app from the app store and install it in your Android device. Launch the App and turn on Wifi on the Android device. Accept the Terms and conditions and tap 'Next'.  You will now see a code screen.
Then start the process of setting up your new iPhone/iPad for the first time by powering it on. (Make sure both devices are connected to the charger)
While setting up your new iOS device, look for the Apps & Data screen. Then tap Move Data from Android.  Then 'Continue'.  The iOS device will create a private wireless network and produce a 6 or 10 digit code.  You have to enter this code on the code screen of the Android device to make the wireless connection.  Then wait for the Transfer Data screen to appear. When the Transfer Data screen appears on your Android device,  select what data you want to move to the iPhone/iPad.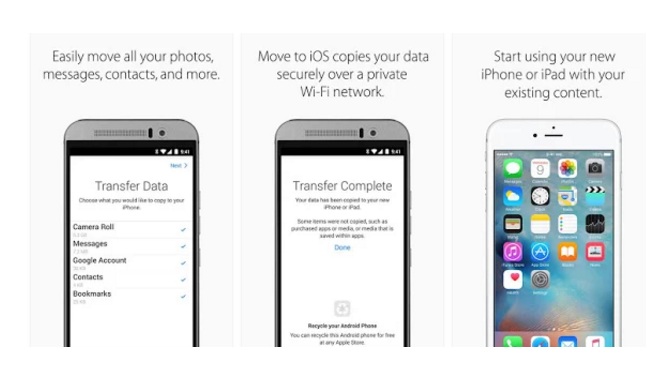 What Data is Transferred by Move To iOS ?
What gets transferred is usually,  Contacts,  messages,  camera photos and videos,  browser bookmarks,  mail accounts and calendars.  If you had any free apps installed that are available for free on the Apple store,  they will be transferred as well.
If you had paid apps on your Android device,  they be added to your iTunes wish list where you can find them easily and have them installed.  You might have to pay again for these apps on the iTunes store.  Other Media that is not transferred by the Move to iOs app can be transferred manually.