As you would expect from a Google product, The Google calendar background wouldn't gather any points in a design competition. The best calendar app in my opinion has a plain white background. The main focus of the app is its mind blowing functionality and features.
But when you are past learning how to use Google calendar, you might want to change the appearance a bit. There is no option in the settings to do that but with the help of Google calendar labs, this is possible.
Like Gmail labs, Google calendar labs is a pool of experimental features that add functionality to Google calendar. You'll not find them in the official Google calendar settings page until Google adopts them as official features. But you can still enable and use them.
How To Add The Google Calendar Background:
Go to calendar.google.com on a PC and sign in with your Google account. Then click on the cog icon in the upper right side and select settings. On the settings page,  click in the 'Labs' tab.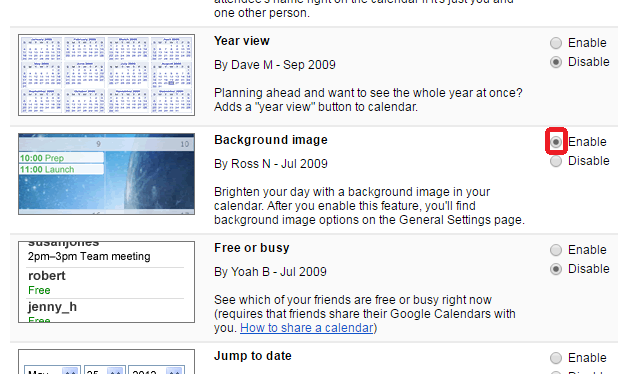 Then scroll through the list of Labs features until you find 'Background image'. Enable this feature and click on 'Save' at the bottom of the page.
Now go back to the settings page and you'll see the 'Calendar background' option. Click 'choose Image'  to upload an image from your computer or choose one from your Google plus account.

Then choose the layout of the background image from the drop down menu. Unfortunately the background and labs features in general are only available on the web interface of google calendar.