This is a common Windows 10 error that is mainly caused by Software or Hardware issues.
The error usually presents itself when you are restarting your PC and it freezes for a few minutes.
A few reasons your PC will get this error is if your graphic drivers are outdated, your Windows registry is corrupt, malware, e.t.c
How To Fix Video Scheduler Internal Error
Do A Full System Scan
In the Start menu, gain access to Windows defender and once open, double click on it to start the antivirus.
Within the program, click on the Shield icon and in the window that opens next, click on the Advanced scan option.
Under the Full scan option, check the box to commence a scan of the entire system.
This scan will identify and clear any malware or viruses in your PC that may be causing the error.
Repair The Registry
Search for Command prompt in the search box, right click on it and choose to Run as administrator.
Type sfc/scannow and press the Enter button. A scanning process will begin to repair any files that may be corrupt.
Once done, restart your PC to see if the error has cleared.
Update Video Drivers
Open the Run dialog box by pressing Windows + R then type in devmgmt.msc. Now click OK.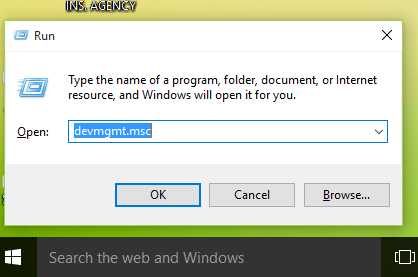 This instruction will open the Device Manager. From here, hover your mouse over the Display adapter's category then right click on Video card.
Under this, select the Update Drivers option and allow the process to complete. Once completed, restart your PC and the error should have cleared.
Reinstall Video Card Drivers
Once again, open the Run dialog box and type in devmgmt.msc to open the Device manager.
On the left hand side of the window, hover your cursor over Display adapter's category and right click on the Video card.
Under this, select the Uninstall Driver option and then restart your PC.
Update Your Operating System
In your Windows search box, type Update and click on the Windows update option. Check to see if there are any updates you do not have.
If any, install them and once the update is complete, restart your PC and the error should be gone.