A voicemail greeting is the personalized message your callers hear when they cannot reach you and need to leave a message.
When setting up or updating visual voicemail greetings, which allows you to view the voicemail message received, you may encounter the subject error for a number of reasons.
How To Fix An iPhone's 'Com.Apple.Mobile Phone Error 1035
Turn On Airplane Mode
One cause of this error is using a Wi-Fi and cellular data connection. To resolve this, turn Airplane mode ON.
Open the notification bar on your phone and tap on the Airplane mode option.
While on, all connectivity to your phone is cut off and now you can go ahead and set up your visual voicemail greeting.
Switch From Wi-Fi To Cellular Data
You may need to change your connection from Wi-Fi to Cell data as Wi-Fi can act as a hindrance.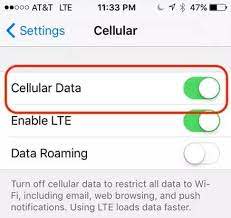 Under Settings, go ahead and toggle to Off the Wi-Fi option. Next up, under Cellular Data, go ahead and toggle the option to On.
The error should resolve now.
Set Up Your Voicemail
Lack of set up, especially via your carrier may be the sole source of the error.
To do this, first things first, turn off Wi-Fi if it is on and then click on the Phone application.
When your keypad opens up, press and hold number 1 to set up your voicemail.
Enter your voicemail password and set up your voicemail. Next is to hang up the phone, restart it and you should be okay now.
Do A Network Reset
Your network may be a culprit in this scenario and to resolve your predicament, you may need to reset the network settings.
Open the Settings application on your phone and then go to the General option.
Locate the Reset option, tap on it and on the options that open up, tap on Reset Network Settings. To confirm your actions, input your Pin.
Your phone will reboot and after this, the error should have cleared.