In this guide, we'll walk you through the process you go through to find the Wi-Fi network name & password on the GoPro HERO12. This will empower you to seamlessly integrate your camera into your digital workflow.
In the ever-evolving world of action cameras, the GoPro HERO12 stands out as a powerhouse, capturing breathtaking moments with stunning clarity. To harness the full potential of this device, mastering its connectivity features is crucial.
The GoPro HERO12 is not just a camera; it's a versatile tool that allows you to control and share your content wirelessly. Whether you're a vlogger, adventure enthusiast, or simply capturing family moments, knowing how to access and configure your camera's Wi-Fi settings is key to unlocking a world of possibilities.
Read this: How To Remove Wind Noise On GoPro HERO12
Find Wi-Fi Network Name & Password On GoPro HERO12
Start by powering on your GoPro HERO12. Swipe down on the screen to access the menu on your HERO 12. Flick left and tap on Preferences.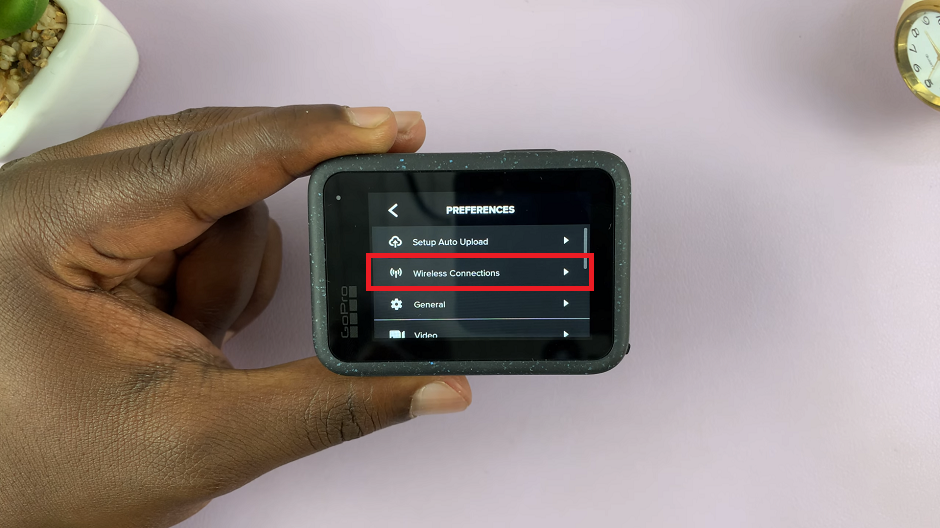 Next, tap on Wireless Connections. Select Camera Info from the Wireless Connections menu.
You will see the Camera Name and the Password.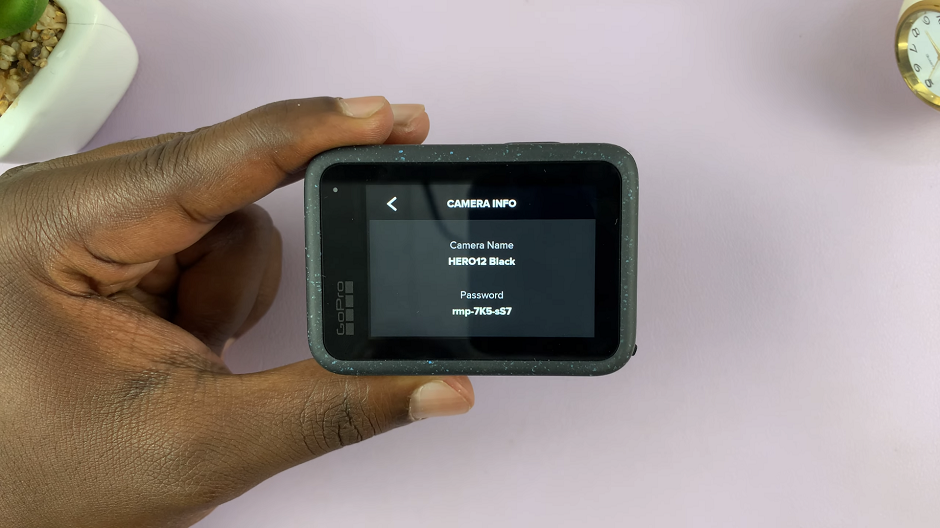 If you encounter any connectivity issues, we've got you covered. Check our troubleshooting section for common problems and solutions, ensuring a smooth experience every time you use your GoPro HERO12.
Practical Applications
Understanding how to find your Wi-Fi network name and password opens up a world of possibilities:
Remote Control: Control your GoPro HERO12 remotely using the dedicated mobile app. Use it to adjust settings and capture shots without physically touching the camera.
Live Streaming: Share your adventures in real-time by connecting your GoPro to your smartphone and broadcasting to your favorite social media platforms.
Media Transfer: Effortlessly transfer photos and videos from your GoPro to your devices, streamlining your post-production workflow.
The GoPro HERO12 is more than just a camera; it's a gateway to a connected and immersive filming experience. By mastering the process of finding your Wi-Fi network name and password, you'll unlock the full potential of this exceptional device. Capture, create, and share your moments with confidence, knowing that you have control over your GoPro HERO12's connectivity.
Watch this: How To Turn OFF Camera Shutter Sound On Google Pixel 8 / Pixel 8 Pro (Workaround)