It's essential to have antivirus software on your Samsung Galaxy A14 to protect it from potential threats. Luckily, you can enable the Samsung Galaxy A14 in-built antivirus and scan for a virus on your phone.
In today's world, our smartphones have become an integral part of our lives. They contain our personal information, bank details, and sensitive data. Unfortunately, the more we rely on our phones, the more vulnerable they become to virus attacks.
Now, you can download an antivirus software to help you with this and it should work. In this article, though, we will guide you on how to enable your Samsung Galaxy A14 antivirus and scan for a virus. We will focus on the default option.
Watch more: Samsung Galaxy A34 5G: How To Change Screen Timeout Period
Enable Samsung Galaxy A14 Antivirus
First, select the Settings app from the app drawer, then tap on Battery and device care.
Choose Device Protection, which is turned off by default. This is the antivirus for your Samsung Galaxy A14. Tap on the Turn On button to activate the antivirus.
Scan for Viruses and Threats
Before you can run a scan, you need to turn on device protection first. After turning on device protection, the button changes from Turn On to Scan Phone.
Select Scan Phone to scan for malware on the phone. This will scan through the entire phone, all the apps, storage spaces and any other information on the Samsung Galaxy A14. Give it time to do this and you should receive confirmation when it is done.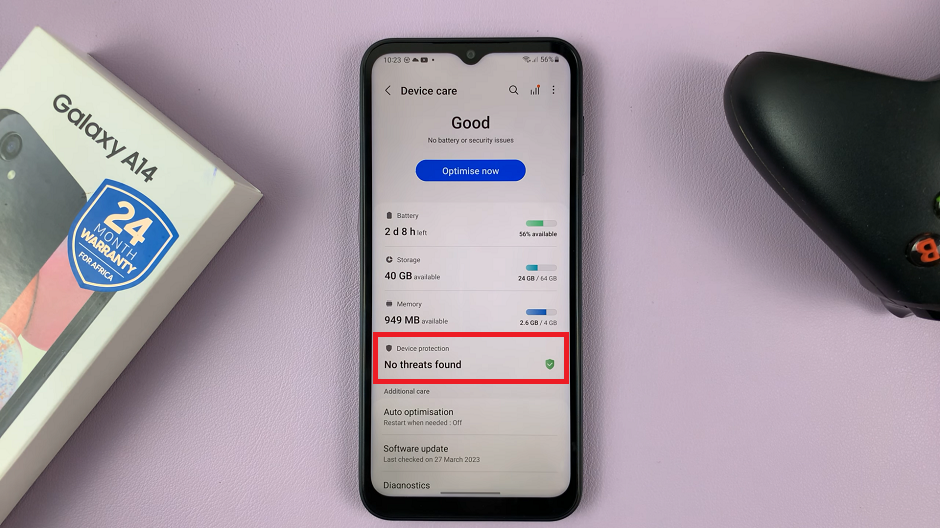 If there are no viruses or threats, the notification will read No threats Found. If any threats or malware is found on the phone, it will be automatically removed to keep your phone in a good condition.
Regular Scans and Checks
To keep your Samsung Galaxy A14 protected from potential threats, it is important to regularly scan your device for viruses. We recommend scanning your device at least once a week to ensure that it remains protected. You can also set up the antivirus software to automatically scan your device on a regular basis.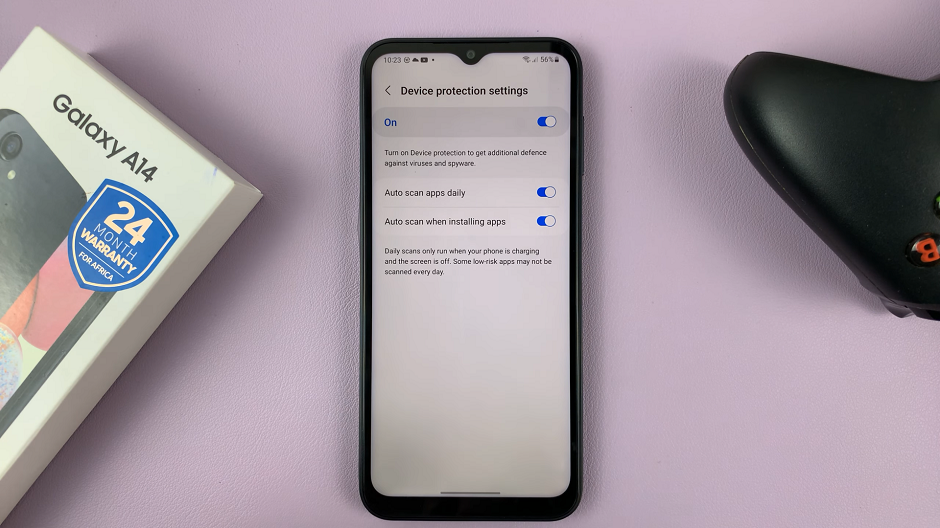 You can choose the scanning schedule, as well as whether to scan all the apps and apks you install on the phone.
In conclusion, enabling antivirus software and scanning your Samsung Galaxy A14 for viruses is an important step in protecting your device and personal information. By following the steps outlined in this article, you can ensure that your device remains safe and secure from potential threats.
Read more: How To Import SIM Contacts Into iPhone