The Samsung Galaxy Tab S9 is a powerful and versatile tablet that allows you to do more than just browsing and streaming. One exciting feature is its compatibility with gaming controllers, such as the PS5 controller.
Whether you want to enjoy gaming on a larger screen or need precise controls for specific apps, connecting your PS5 controller to your Galaxy Tab S9 is a straightforward process.
In this article, we'll guide you through a step-by-step process on how to connect your PS5 controller to your Samsung Galaxy Tab S9.
Also Read: How To Use 2 / 3 Apps In Split Screen Mode On Samsung Galaxy Tab S9
How To Connect PS5 Controller To Samsung Galaxy Tab S9
Begin by accessing the "Settings" app. In the Settings menu, locate the "Connections" option on the left panel. Tap on it to access various connectivity settings. Inside the Connections menu, you will find various options related to network, Bluetooth, and more. To connect your PS5 controller, tap on the "Bluetooth" option.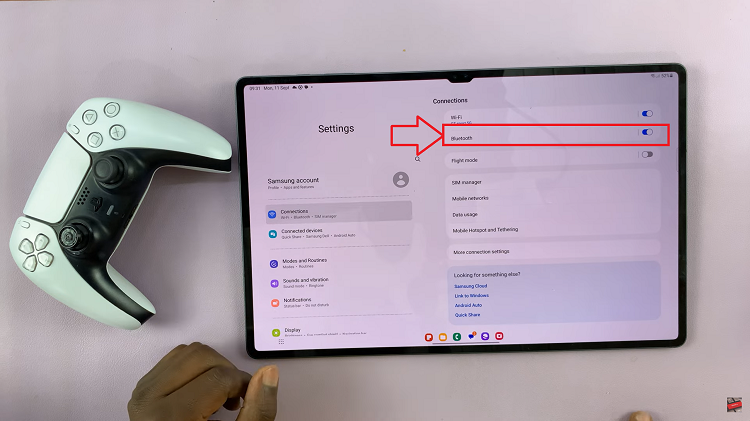 Ensure that the toggle switch for Bluetooth is turned on. This will enable your Galaxy Tab S9 to search for nearby Bluetooth devices, including your PS5 controller.
Now, it's time to prepare your PS5 controller for pairing. To do this, press and hold the "PlayStation" button (the one in the center of the controller) and the "Share" button (located to the left of the touchpad) simultaneously. Hold both buttons until you see the light on the controller begin to flash.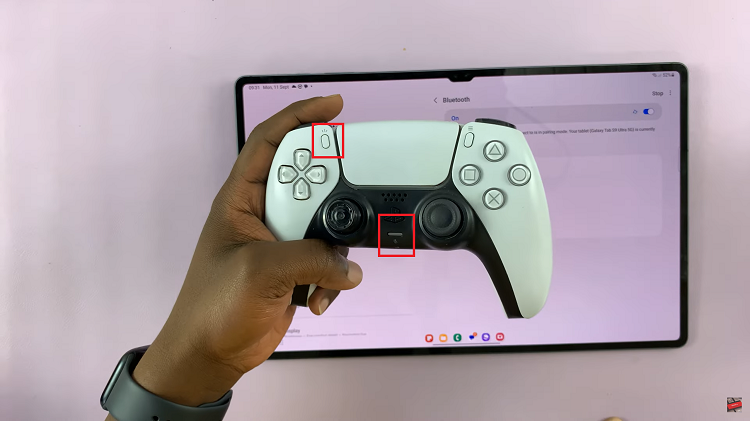 On your Samsung Galaxy Tab S9, the list of available Bluetooth devices will appear. Scroll down to find the a name that represents your PS5 controller. Tap on it to initiate the pairing process.
Once you tap on the controller's name, a prompt will appear on your Galaxy Tab S9's screen, asking you to confirm the pairing. Simply tap on the "Pair" button to establish the connection between the tablet and the PS5 controller.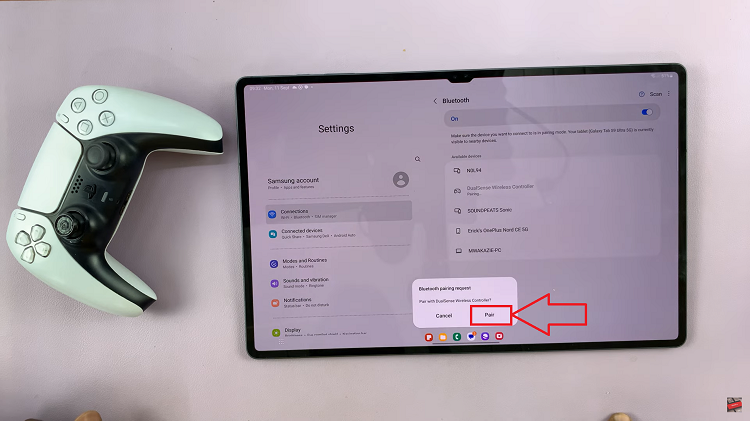 You can use it to navigate the tablet, play games, and control various apps that support gamepad input. Connecting your PS5 controller to your Samsung Galaxy Tab S9 opens up a world of possibilities for gaming and app navigation.
Watch: How To Charge S Pen On Samsung Galaxy Tab S9 S9+ S9 Ultra